An easy peasy way to stick to your New Year's Resolution
December 28, 2018
Having a 'Dry January' can be a challenge, especially when you meet friends in a bar – but now there's an easy-peasy way to stick to your New Year's resolution. Award-winning Edinburgh brasserie and cocktail lounge Dine has teamed up with Scotty Brand to create the Take It Peasy, a special non-alcoholic cocktail containing frozen peas!
The gluten-free, vegan and magnesium-rich cocktail has been created by mixology expert Alessandro Rezzonico at Dine. It features Scotty's premium quality AA Grade garden peas, along with Jasmine syrup, fresh ginger, lemon juice, lime juice and ginger beer. Dine's Alessandro Rezzonico said: "Often there are limited options available for cocktail fans who are doing Dry January, but still want a creative and delicious drink. Using these super
sweet peas creates a stunning and moreish alcohol-free drink that also packs a nutritional punch."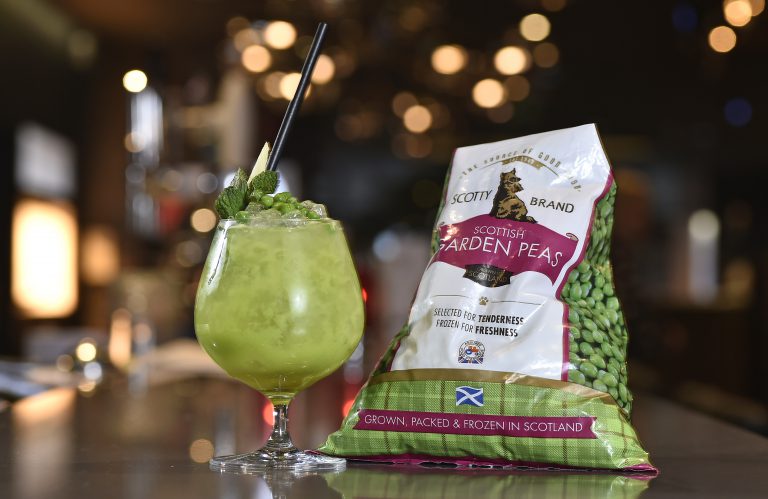 Grown in Angus, Scotty's peas are picked and frozen in under three hours. Even so, peas are usually relegated to a meal accompaniment and people often forget how nutritiously and antioxidant-rich they are. So, after what is sure to have been an overly indulgent Christmas for everyone, we have put our peas centre stage and create a delicious healthy alcohol-free drink for cocktail fans.
For any cocktail fans not doing Dry January, the Peasy Rider has also been created by Dine. This cocktail contains vodka infused with peas, elderflower syrup and roasted lime juice. Scotty Brand Garden Peas are available to purchase throughout Scotland in selected Co-op
stores.
In our photo above, Aliona is sampling the Take It Peasy, while Mario enjoys the Peasy Rider.
Take It Peasy recipe
A generous handful of Scotty Brand green peas, blended
15ml lime juice
15ml lemon juice
30ml Jasmine syrup
Top with Ginger Beer
A slice of fresh ginger root
Mint sprig
Pea garnish
Peasy Rider recipe
A generous handful of Scotty Brand green peas, blended
50ml infused Vodka
35ml Elderflower syrup
25ml (Roasted) Lime juice
2 slices of fresh cucumber
Back to News