Introducing 'Oor Scotty'
July 19, 2019
We've sponsored our very own sculpture in Oor Wullie's BIG Bucket Trail!
Oor Wullie's BIG Bucket Trail is Scotland's first ever national public art trail, aimed at raising awareness and vital funds for Scotland's children's hospital charities. The trail is running for 11 weeks from 17th June 2019 – 30th August 2019.
You'll be able to meet 'Oor Scotty' as part of the Glasgow Trail on Buchanan Street in Glasgow City Centre.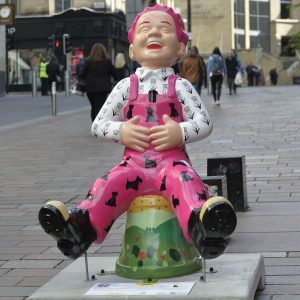 There's an app you can download and use to navigate the trail and 'unlock' all the sculptures you find. Some sculptures even offer rewards once you've unlocked them. Be sure to unlock Scotty when you see him!
It's been hard work turning Oor Wullie into Oor Scotty but we worked closely with our artist Shelley Jayne to make sure he was perfect and thanks to her hard work – isn't he just?
If you've not done already, join in the bucket trail fun. It's great for all the family and definitely worth a photo or two. If you take any photos with Oor Scotty, be sure to tag them using #OorScotty.
Oor Scotty even has his own Twitter Page – he's certainly keeping us all on our paws here at Scotty HQ!
Back to News