Meet Oor Artist
July 22, 2019
Did you hear, we've sponsored a sculpture in Oor Wullie's BIG Bucket Trail across Scotland? 'Oor Scotty' is currently pride of place on Buchanan street in Glasgow and ready for all the selfies. Click here to learn more about Oor Scotty.
It's been hard work turning Oor Wullie into Oor Scotty but we worked closely with our artist Shelley Jayne to make sure he was perfect and thanks to her hard work – isn't he just?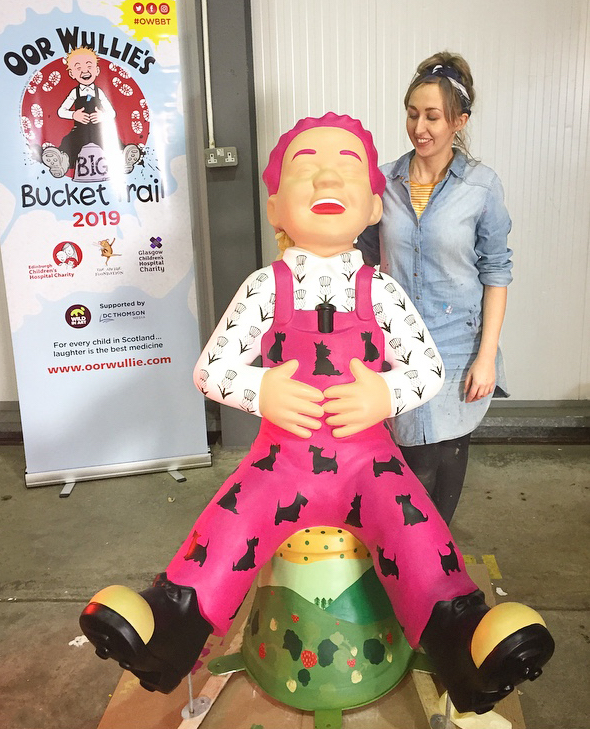 Shelley is a freelance illustrator and creative practitioner based in Liverpool, specialising in hand drawn designs for her range of products, public art projects and children's books. She has a degree in graphic arts illustration and launched her creative business in 2012.
Her style combines bold colour and mark making with intricate pattern. She creates layers in her work through use of different media such as watercolour, gouache and pencils.
Her main sources of inspiration are animals, travel, and exploring the natural world. This was the main influence behind her Scotty design having been captivated by the natural landscapes of surrounding Glasgow and the pride in local produce within this region. She was also influenced by the symbols of Scotland itself and being a huge dog lover, she wanted to incorporate the famous Scottish terrior.
Thank you Shelley, we think he's perfect!
To keep up with Shelley and her work visit her website here and find her on Instagram, Facebook & Twitter
Back to News